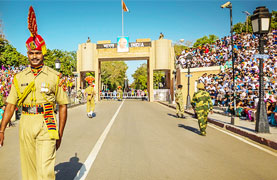 While visiting Amritsar it is must to visit Wagah Border to Attend the retreat ceremony, every day around twenty thousand people attend the ceremony from Indian side, Wagah is a village in Pakistani side and since 1947 this border crossing is more polular as Wagah Border. Although indian Govt remaned it and started to call it as Attari border but it is still called Wagah Border, It is 30km from Amritsar and from Lahore it just 22 km, the timing of ceremony varies season to season.
You will be picked from your hotel and will drive to the wagah border, on the way there are number of Dhabas (Eating places) have come up and some restaurent are also there which are serving indian food , Dhaba Balley Balley, Shawa Shawa, Haveli, Restaurent SARHAD and Eating joint SHAHI QILA near the zero line have also opened and serving good quality of food.
Upon arrival at the border you will be dropped and you proceed toward the ceremony area where a big stadium has been built, no heavy bags are alowed to carry in side there, if you have a VIP permission it is good otherwise you can sit in the gallery from where you can view the parade perfectly.
After finishing the parade you will walk back to the car and then you will be taken back to you hotel.
Booking for Amritsar Wagah Border Tour, Send Query & let us help to assist you.